artist's statement / bio
---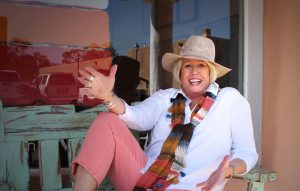 artist statement
My college studies at the Pasadena / Seattle School of Interior Design included classes in color, painting and design perspectives which all helped shape and guide my artistic pursuits of my current life. Upon taking my first class in encaustic painting in 2008, I knew I had found my true artistic passion. That passion evolved into cold wax & oil painting and increases with each painting. Over the last 15 years I have been working steadily to develop my skills and individual style and have completed numerous bodies of work in both the hot and cold wax mediums.
I work mainly in the abstract with an emphasis on color exploration. My love of color leads me to bold and vivid combinations with both smooth and textured surfaces. My work has grown in size and complexity and can be found in galleries in Taos, New Mexico; Aspen, Beaver Creek and Breckenridge, Colorado; and soon in Santa Fe, New Mexico.
bio
I was born and raised in Seattle, Washington and had careers in radio and magazine advertising sales and sales management; was product designer and sales manager for a family-owned business in The Philippines; plus, spent over 15 years in real estate sales in both Seattle and Sun Valley, Idaho.
In 2008 I began to execute the changes that led me to further explore my interest in all painting mediums. I opened my first studio in Sun Valley, Idaho in the Spring of 2009. In 2013, I relocated to Taos, New Mexico where I continued to create bodies of work inspired by what I saw in the skies, colors and landscapes of the Southwest. I was represented by Wilder Nightingale Fine Art and The Ranch at Taos galleries in Taos for over 3 years and then in 2017, I opened my own Taos studio/gallery where I painted and sold my work to visitors from all over the world. In the late summer of 2023, I decided to close my gallery and devote myself full time to painting for the galleries in Colorado and New Mexico who currently represent my work.
© 2019 Mary Stratton