cold wax & oil info
---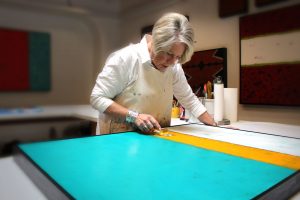 Cold wax and oil painting has been around for centuries but has come into it's own in the last 20 years. Most cold wax and oil paintings express the abstract rather than realistic subject matter.  Unlike encaustic (hot wax) painting, cold wax and oil are not heated but are mixed together and applied cold onto a variety of papers or firm surfaces. The ratio of the mixture of the cold wax medium (a mixture of chemically unaltered wax, usually beeswax, in an organic solvent) and oil is about 50/50 or whatever the artist prefers.  Because of the oil, the drying time between layers can take days and most artists add a drying agent to the mix to speed up the process.  Most artists work on several pieces at the same time, each in a different stage of the drying process. There are many techniques to experiment with when painting with cold wax and oil and the artist paints in a style gives them a look or result that they can call their own.
Many different tools and/or household items can be used to incise, stamp or carve into the partially dry canvas to achieve a wonderful variety of markings and textures.  Working with cold wax is all about making marks!  Cold wax produces a matte sheen and after a piece is completely cured (dry), a final coat of wax medium is usually applied and then buffed when the wax is dry.
There is a distinctive look to a finished cold wax and oil piece – often very textured, luminous and layered.  As with encaustic paintings, extra care should be taken when handling or shipping a cold wax and oil piece, especially with the edges and corners if a frame has not been added.  The face of a finished piece that is fully cured is strong and tough and because most are done on wood panels adds to the overall sturdiness.  A cold wax work on panel will hold up very well through all phases of finishing, storing and exhibiting.
© 2019 Mary Stratton